GERALD DELMAR TOMLINSON
Tommy Tomlinson and his guitar

Tommy was born Gerald Delmar Tomlinson, October 28th, 1930 in Hampton, Arkansas. The Tomlinson farm was located just a few miles away from the Cash's farm between Kingsland and Tinsman, Arkansas. After the flood that destroyed the entire area many families had no other choice but to move out. The Cash family moved to Dyess, Arkansas and the Tomlinson's to Minden, Louisiana in 1940. Tommy was always intrigued by guitars and had made several as a young boy. He even constructed one from a bugs spray can. Some years later a guitar was purchased for Tommy's older brother Bill. When the war came around Bill enlisted in the Navy and the guitar was given to Tommy perhaps to keep him out of trouble.

A friend of Tommy's taught him how to play a few chords and by the age of fifteen he had his own band and was playing bar dances and social events. By Tommy's account he has stated that he has played with Hank Williams in the late 40's, early 50's, before joining the Marine Corp in February 24th, 1951. Young Tommy also played the Big D Jamboree, in Dallas, around 1950.

During Tommy's three year enlistment, Tommy saw action against the enemy in Korea. Receiving wounds in both legs in the winter of 1953 he still continued to serve his full three year enlistment, ultimately receiving an Honorable Discharge on February 24th, 1954. Immediately returning from the war, Tommy joined the Louisiana Hayride staff band. There he picked guitar for anybody needing a top notch guitarist. He played mostly for Werly Fairburn, Jim Reeves, Paul Howard and few others. On April 1956, he traveled to Dallas with James "Sonny" Trammel for Werly Fairburn's last "Columbia" session. Here they cut Werly's all time classic "Everybody's Rockin'" and Tommy delivered great work on his Gretsch. Well, I wanna rock a bop a be bop, gonna jump in my rockin' shoes!

At Shreveport's Municipal Auditorium he was introduced to the great Johnny Horton and, with Tillman Franks on bullfiddle bass, he become the nucleus of his touring band. That three-piece band developed such a full sound and worked like a well-oiled machine for years. Tommy started to record with Johnny on April 1957 cuttin' Claude King's "She Knows Why" in a great rockabilly style. Here came a perfect blend between Johnny's style of singing and Tommy's style of bring the strings to words. Together, they created one of the greatest sounds of rockabilly by recording jewels like "Lover's Rock" or "The Wild One" in 1957. Cut in 1957, Johnny's cover of "Honky Tonk Hardwood Floor", a song recorded for "Capitol" by Jess Willard, is pure rockabilly. Those great lyrics still fit perfectly when released in February 1958 and are a perfect follow up to "Honky Tonk Man". In 1959, they scored with "The Battle of New Orleans" and, in 1960, with "Sink The Bismarck" and "North to Alaska". While on tour with Johnny Cash, Tommy would spent countless hours teaching Luther Perkins how to perfect the rockabilly sound of the times. It probably helped a little to give birth to "Luther's Boogie" recorded for "Sun" by Johnny Cash. Of course, all those men also shared fishing parties and secrets about fish-hooks while on tour as they used to travel with them fishing equipment.


There's not much live footage of Johnny Horton but you can see him, with Tillman and Tommy, singing "The Battle of New-Orleans" on the Ed Sullivan Show on May 31, 1959 with fur hat and complete frontiers men clothes. Another one is "Johnny Reb" but the sidemen are lost in the background. When on stage, Johnny often took a break and let Tommy play "Wildwood Flower" or ""Honky Tonk".

The day of the tragic wreck that ended Johnny Horton's life on 5 November 1960, Tommy had just returned from Nashville after completing the first of four instrumental albums with Jerry Kennedy. Those albums included such great musicians as Harold Bradley, Hank Garland, Bob Moore or Boots Randolph and brings covers of the current hits of the time from Country, Rock'n'Roll, Blues or Pop. The songs range from "Sugarfoot Rag" to "Raunchy" via "My Blue Heaven" or "Unchain My Heart". All of these albums issued on "Mercury" were entitled Tom & Jerry because he was paired up with legendary producer Jerry Kennedy. The first single issued in August 1961 offered "The Golden Wildwood Flower"/"South" and a fan club was started by Jamie Willard from Texas.

In the car wreck, Johnny Horton lost his life and Tommy suffered multiple leg fractures who put him out of work for months. On 30 November 1960 was set in Shreveport a "Johnny Horton Memorial Premiere" with the screening of "North To Alsaka" as benefit for Tommy and two weeks later, his friends Gordon Terry and Marty Robins would ultimately came together to hold a benefit concert to help cover the medical expenses. Also on stage were Johnny Cash and Luther Perkins who wrote him those great words: "Tommy as your friend I would be honored and proud to be of help to you and your family in any way that it is needed. Give me this chance to show you what friends are for please". I knew Luther was a great fellow but those words are simply beautiful.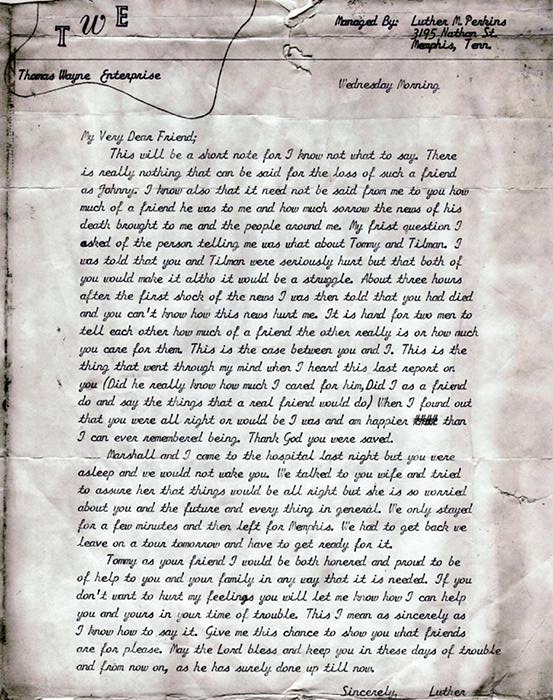 Luther's letter.





After re-breaking his leg several times and spending four months in a full body cast he finally decided to have the Doctors amputate the troubled left leg. Although Tommy would never be the same he still was upbeat and kept a smile on his face. After receiving his prosthetic leg even though it was very painful and hard to perform on the pain medication, he always did his part. Tommy would spend over eighteen months recovering but he was yet on tour by November 1961 with Claude King, Jimmy C. Newman and Wanda Jackson.


Submitted by Dr. Tom Carey, Class of 1965
Clifford Taylor and I saw Johnny Horton at Corpus Christi in 1956. His guitarist was Gerald Tomlinson. At intermission I went down front and talked to Gerald, because I wanted him to introduce me to Johnny Horton, who was the only one who had left the stage. The only problem was I wasn't sure he would know who I was. He was a very close friend to my brother, Tommy Moore, but I hardly knew him. In fact I don't remember ever being in his presence or speaking a word to him. However I got a big surprise upon approaching the stage, He said,"you' ve got to be a Moore, I would recognize a Moore anywhere." In fact I was so surprised that he knew who I was that I never asked him to introduce me to Johnny Horton. After talking to him for about 5 or 10 minutes I returned to my seat, and Spot asked me why he didn't introduce me to Johnny Horton. I told him I forgot. Narley Stryder (Fred Moore, Class of 1955)